Find Your Troy, NY area ancestors, Irish or Not!
St. Agnes Cemetery Interments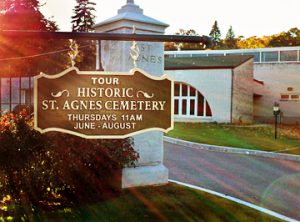 St. Agnes Cemetery is a 108 acre Catholic cemetery located in Menands, NY. Founded in 1867, it is an example of the rural cemetery movement full of winding paths, magnificent vistas, beautiful sculptures and historic monuments. The cemetery provides an open space for quiet walks and public enjoyment of nature, history and art. St. Agnes, today, is one of the Capital Region's most active cemeteries. Community involvement with the cemetery is encouraged through historic tours, bird watching events, veterans' ceremonies, school field trips and genealogy research.
The current on-going Founders' Hill Restoration Project is a multi year effort undertaken by St. Agnes Cemetery to restore and preserve the landscape, monuments, and historic records associated with burials dating back to 1868.
In the area of preservation of records, St. Agnes Cemetery has partnered with the Troy Irish Genealogy Society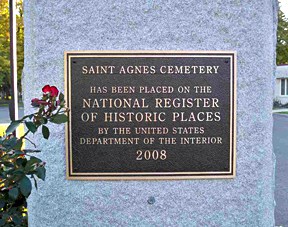 to assist in scanning and transcribing the fragile cemetery interment books. Each interment index will then be available for review on the Troy Irish Genealogy website. The on-line index of these interments will show the name, date of death and age of the individual.
Genealogy and family researchers will then be able to request additional information on their family members which may be available in the St. Agnes Cemetery records.
Copies of additional information in the cemetery records that may be of interest to genealogy and family researchers can be ordered from the St. Agnes Cemetery Office for a fee of $5.00. The additional information, which may be available, will vary depending upon the individual interment book.
Book 1 – Interment Surnames 1868 – 1882 
Book 2 – Interment Surnames 1883 – 1912
Book 3 – Interment Surnames 1886 – 1910
Troy Irish Genealogy Society Members along with other volunteers worked on this project. Transcribers were:
Kathleen Gallagher Brearton – Wynantskill, NY
Donald J. Cosgro – Plattsburgh, NY
Anna Denney – Duanesburg, NY
Mary Keris Eastman -Virginia
Austen Fadden – Knoxville, Tenn.
Linda Christian-Herot – Newton, Mass.
Joan Rothenheber Howe – Iowa
Jim Kaufman – Albany, NY
Art Kilmartin – Raleigh, NC
Jeanne M. Keefe – Troy, NY
Diana Lupe – Virginia
Donna M. McClure – Guilderland, NY
Bob McConihe – Haverhill, Mass.
Bill McGrath – Clifton Park, NY
Joseph Murname – Williamson, NY
Lisa Corbett Murray – Brunswick, NY
William J. Nealon – Clifton Park, NY
Lori O'Dea– Syracuse, NY
David A. Opp – Endicott, NY
Laura Powell – California
Peter Reilly – Latham, NY
John J. Salamida – Albany, NY
Carol Schrom – Troy, NY
Jack Seppi – Albany, NY
Andrea Sharp – Troy, NY
Lynne Sisk – Saratoga Springs, NY
Lizette Strait – New York State
Janice Sullivan – Clifton Park, NY
Candis Sunderland – Poughkeepsie, NY
Donna Vaughn – New York State
Ed Waugh – Troy, NY
Eileen Werth – Plymouth Meeting, Pa.
For further information on this project please contact Bill McGrath at [email protected]