Find your Troy-area ancestors, Irish or not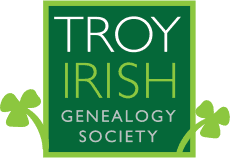 TIGS monthly meeting for June 2019 will be held at the Van Schaick Island Country Club in their Max410 Restaurant on Thursday, June 20, 2019.The meeting will be held at 6:30 p.m. Please RSVP if possible so that we can give a tentative head count. Our meetings are...
read more
We are having another genealogy look up event! This one will be the last one till Fall! By appointment only, a 45 minute FREE consultation with one of our experienced members. Let us help you break thru that brick wall, or maybe you just want to get started in...
read more
The Troy Irish Genealogy Society (TIGS) is an organization whose main purpose is to collect, share, and preserve genealogy information. We are open to everyone; from people with ties to  Troy or from anywhere with an interest in genealogy. You don't need to live in Troy, or be of Irish descent, to join or get genealogy information from us. 
The Troy Irish Genealogy Society strives to make genealogy information free to the public. We can only do this from donations, memberships, and volunteers who help us organize this information. If you feel this is a worthy cause; please consider a donation of your time or money. 
TIGS was founded by a group of Irish descendants from Troy and the surrounding area, who met at the Irish Mist Restaurant on Second and Ida Streets in Troy NY on September 18, 2003. Before there was the Troy Irish Genealogy Society, many Troy area researchers were connected, at least by names, through the Rensselaer County Rootsweb mailing list.