Goldsbrow Banyar
1724 – 1815
Goldsbrow Banyar was born in London, England about 1724. A career British colonial official, he achieved wealth and prominence in colonial New York, survived the Revolution, and lived the last two decades of his long life in Albany.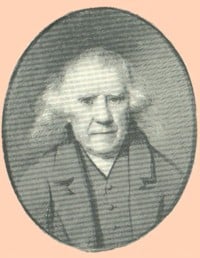 A young Banyar came to America during the 1730s. In 1767, he married the widow Elizabeth Mortier Appy of New York City. He lived in New York City but was able to acquire extensive acreage in the unsettled regions of the province. At the onset of the Revolutionary War, he retired to Rhinebeck and sought to avoid the conflict there.
Banyar had served as the Deputy Secretary of the Colony of New York, Deputy Clerk of the Council and of the Supreme Court, Register of the Court of Chancery and Judge of Probate, all between 1746 and the opening of the Revolution. His services ended with the end of British rule, and he withdrew to Rhinebeck until the end of the war, at which time he returned to Albany.
Shortly thereafter, he moved to Albany to a house at 62 North Pearl Street where he lived for remainder of his life. Approaching his seventieth birthday, Banyar used savings to live comfortably in his new home. He owned the substantial Pearl Street home, another house in the first ward, and additional lots as well. Banyar's name was included on the boards of a number of organizations including the incorporators of the Bank of Albany in 1792.
In April 1801, his son, Goldsbrow Banyar, Jr. married nineteen-year-old Maria Jay, the daughter of governor John Jay. The marriage took place at St. Peter's Anglican church in Albany. Their son and daughter were born in 1804 and 1805. But both died in childhood.
Goldsbrow Banyar, Sr. died in Albany, New York on November 3, 1815 at the age of ninety-one.
NOTE: Death notice for Banyar was published in The Troy Post on November 21, 1815.