St Mary's RC Church 
10 Lodge Street, Albany NY
St. Mary's Church is a historic Catholic Church on Lodge Street in downtown Albany. The first St. Mary's Church was built in 1797 at the corner of Pine and Chapel Streets. Historic St. Mary's, as the Church is commonly known, is the second oldest Parish in New York State, superseded only by St. Peter's on Barclay Street in Manhattan which was found in 1786.
On October 12, 1820, in order to alleviate the overcrowded original church, the second St. Mary's Church was built. This second church, built on the site of the first St. Mary's, was designed by Philip Hooker in the Federal style and cost $12.000.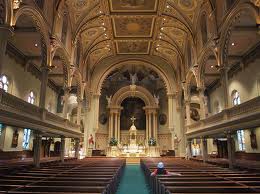 The cornerstone for the present day St. Mary's was laid on August 11, 1867. The church was designed by Albany Architect Charles Nichols in the Romanesque Revival style and cost $100,000. Its tower, completed in 1894, rises 175 feet and is topped with a large statue of St. Gabriel the Archangel blowing a trumpet as the "Angel of Judgment". The third St. Mary's Church was dedicated by the second Bishop of Albany, the Rt. Rev. John Conroy.
The church was listed on the National Register of Historic Places in 1977.
The following Memorial Names that were found in the church were
transcribed by TIGS volunteer Mimi Nicotina.
ChurchMemorials-StMarys-Albany
| wdt_ID | Name | Memorial | Location | Inscription | Church | Status |
| --- | --- | --- | --- | --- | --- | --- |
| 1 | Alida, Nellie | Pew Holder Card | Second Row of Pews From Left Wall Facing Altar | Nellie Alida | St. Mary's, Albany | Open |
| 2 | Arran, Mary, Mrs. | Pew Holder Card | Third Row of Pews |  Mary, Mrs. Mary Arran | St. Mary's, Albany | Open |
| 3 | Artiga, J. | Pew Holder Card | Fourth Row of Pews From Left Facing Altar | J. Artiga | St. Mary's, Albany | Open |
| 4 | Atkins, W. J., Mrs. | Pew Holder Card | Second Row of Pews From Left Wall Facing Altar |  Mrs. W. J. Atkins | St. Mary's, Albany | Open |
| 5 | Barker, Mary | Pew Holder Card | Third Row of Pews | Mary Barker | St. Mary's, Albany | Open |
| 6 | Barry, John J. | Pew Holder Card | Fourth Row of Pews From Left Facing Altar | John J. Barry | St. Mary's, Albany | Open |
| 7 | Becker, E. | Pew Holder Card | Third Row of Pews |  E. Becker | St. Mary's, Albany | Open |
| 8 | Becket, Peter | Pew Holder Card | Left Hand Side of the Church | Peter Becket | St. Mary's, Albany | Open |
| 9 | Behan, Thomas | Stained Glass Window | Right Side of Church Facing Altar | In Memory of Thomas Behan | St. Mary's, Albany | Open |
| 10 | Bergin, Mrs. | Pew Holder Card | Left Hand Side of the Church | Mrs. Bergin | St. Mary's, Albany | Open |
| | Name | Memorial | Location | Inscription | Church | Status |