Lansingburgh Methodist Church
Corner of Third Avenue & 116th Street
Troy, New York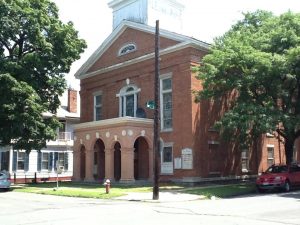 By 1798, Methodist class meetings in Lansingburgh were organized into a church by the local circuit riders. Services were held in the old Red Schoolhouse on 2nd Ave. and 116th St. until 1810 when their first church building was erected. The third building was completed in 1848 on the northeast corner of 3rd Ave. and 116th St., where the building still stands today.
Rev. W.H. Hughes was the Pastor from 1874-1876. During this time there was a great religious revival that lasted 17 weeks. In 1901, extensive improvements were made to the building and the congregation worshiped at the Presbyterian Church down the street. The Presbyterian Church then worshiped at the Methodist Church during improvements to their building. 
In 1926 the Methodist Church merged with the Hedding Methodist Church in Lansingburgh after that building burned in 1924. This new congregation became known as St. Mark's Methodist Episcopal Church. Expansion plans began in 1959 with the construction of a new church house, plus renovations to the Sunday School rooms and nursery downstairs, below the sanctuary. At this time, many people donated money and furnishings for the new space, which are listed in the database of names below.
By 2001, the congregations of the Methodist Church and the Presbyterian Church down the street had begun to share worship, ministry, and Christian Education. The Methodist Church building closed in November, 2006 and that building is now home to Joy of Troy – 7th Day Adventist Church. The Methodist congregation joined the Presbyterian congregation to become Cornerstone Community Church, using the Presbyterian church building
. NOTE: The Cornerstone Community Church is also part of the Church Memorials and Family Names data series.
This history was compiled from information held at Cornerstone Community Church, and from a pamphlet at the Troy Library regarding the consecration of the new church house and renovation at St. Mark's Methodist in 1960.
The following Memorial Names that were found in the church were transcribed by TIGS volunteer Rebecca Rector.
If anyone is interested in helping on a similar project,
contact Bill McGrath at:  [email protected]
| wdt_ID | NAME | MEMORIAL | LOCATION | INSCRIPTION | CHURCH | STATUS |
| --- | --- | --- | --- | --- | --- | --- |
| 1 | Aldrich, David J. | Stained Glass Window | Sanctuary, left | Restored in 1952 - In Memory of Mr. and Mrs. A. J. Wallace by Mabel Wallace Hughes - Restored in 1999 in Memory of David J. Aldrich, Beloved Friend, Teacher | Lansingburgh Methodist, Troy | Closed |
| 2 | Andersen, L. Wesley, Mr. and Mrs. | Furnishings and Equipment | | | Lansingburgh Methodist, Troy | Closed |
| 3 | Andersen, Neils P., Mr. and Mrs. | Fireplace Grate | Was in Hearth Room, 1960* | | Lansingburgh Methodist, Troy | Closed |
| 4 | Andersen, Robert N. | Fireplace Tools | Was in Hearth Room, 1960* | | Lansingburgh Methodist, Troy | Closed |
| 5 | Barnett, Ruth A. | Plaque 2, Contributor | Sanctuary, back | | Lansingburgh Methodist, Troy | Closed |
| 6 | Batchelder, Helen | Plaque, Special Contributors | Sanctuary, back | | Lansingburgh Methodist, Troy | Closed |
| 7 | Baucus, Emma, Miss | Arm chairs (2) | Was in Hearth Room, 1960* | In Memory of Mr. and Mrs. Irving Baucus, Miss Emma Baucus and Mr. and Mrs. Howard Perry | Lansingburgh Methodist, Troy | Closed |
| 8 | Baucus, Irving, Mr. and Mrs. | Arm chairs (2) | Was in Hearth Room, 1960* | In Memory of Mr. and Mrs. Irving Baucus, Miss Emma Baucus and Mr. and Mrs. Howard Perry | Lansingburgh Methodist, Troy | Closed |
| 9 | Bornt Family | Stained Glass Window | Sanctuary, right | Restored in 1952 by the Bornt Family - Restored in 1999 in Memory of the Pike Family Members by Family | Lansingburgh Methodist, Troy | Closed |
| 10 | Bouleris, Margaret | Plaque, Contributor | Sanctuary, back | | Lansingburgh Methodist, Troy | Closed |